After a gap of nearly two months, I made scores of jewellery at the end of February.  I was putting together a fashion show for a popular Women's wear brand in South India for them to launch their summer collection. Apart from doing the runway styling, choreography and set, I also made the jewellery the nine models wore. Since the clothes were pastel-coloured kurtas (tunics) with skirts, divided skirts or pants as bottoms, the design team and I settled on using glass pearls, lace and fabric for jewellery. I made disc earrings using fabric (look for details in the next post) and pearl choker necklaces and ropes of pearls.
Photographs above by Satyachith
What is a choker necklace? How and why is it worn?
A choker necklace is a close-fitting necklace that sits tightly around the neck. It can be between 14 and 16 inches. It sits lower than a collar and higher than a princess necklace. Choker necklaces can be made of various materials, including velvet, lace, metal, leather, and more. In recent years, chokers have become increasingly popular again, with many celebrities and fashion influencers sporting them as trendy accessories. They can be worn alone as a statement piece or layered with other necklaces for a more bohemian look.
The historical evolution of the choker necklace in the western world
Ancient civilizations: Choker necklaces have been worn by various ancient cultures, including the Sumerians, Egyptians, and Greeks. These early chokers were often made of precious metals and gemstone beads worn as a sign of status or wealth.
Renaissance: During the Renaissance, choker necklaces were popular among the wealthy and fashionable. They were often made of velvet or silk and were adorned with jewels or pearls.
Victorian era: Women of this time wore chokers as a fashion statement, often pairing them with high-necked dresses or blouses. The most famous choker of this time was the "dog collar" choker, a wide band of velvet or satin with a jeweled buckle in the front.
1920s: Beaded and ribbon chokers, sometimes with rhinestone focals inspired by the early Art Deco movement.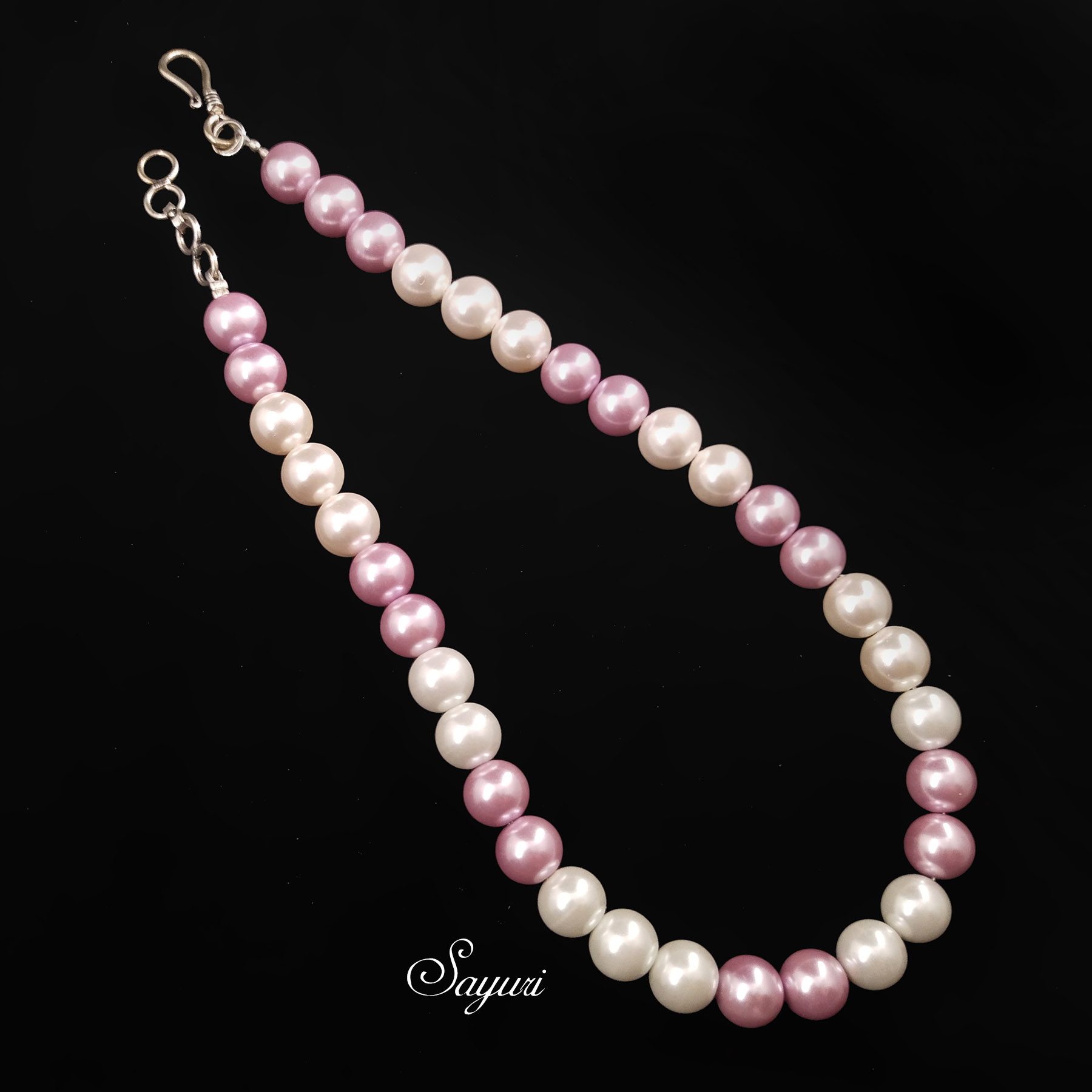 1990s: This era saw the rise of the "tattoo choker," a simple black plastic choker that looked like a tattoo around the neck.
2000s and 2010s – Lace choker necklaces
2020s – Choker necklaces of chains or pearls are popular. Beaded chokers from the daisy chain to opaque beads with gloss finish continue to dictate trend reports in fashion magazines. Another popular choker is a rhinestone necklace that looks like a tennis bracelet.

Choker in India
Choker necklaces have a long history in India, from the Indus Saraswati civilization to the present times. It is known as guluband in Hindi and Addigai in Tamil. While the Guluband has a focal that functions are a multiple-strand connector, the addigai typically is a single strand of stones set in bezels with a pendent ending in pearl drops. 
I have always disliked choker necklaces.  I find them too constricting to wear, as though someone is suffocating me. To say that I resisted wearing them even when they were in trend is an understatement. However, as I worked on this project, I understood the draw that chokers have. A choker can make you look elegant, glamourous, and refined. It can elevate your status and make you look more wealthy than you are. While I may not buy or make another for myself, I am slowly learning to tolerate wearing them for short bursts of time.
What do you think of chokers? Do you love them, hate them or tolerate them? Do you make or wear them?
Choker Necklace Tutorials to try
Make the necklaces as little shorter than indicated in the tutorials for a snug choker fit.
I hope you find it interesting
Cheers