Everyone in their right minds would want their life to be peaceful, rather than full of turmoil. Some take to meditation, some shut themselves from the world, some perform yoga, some look to religion and some resort to travelling like a nomad. If you are indeed thinking of heading out in search of inner peace, alone or with a group, then you do not have to go too far. There are places within our "great country", where you can be immersed in utter serenity, with nothing troubling you. You guessed it, such places are far from the city. Isolated from modern civilisation, these places are mostly in the mountains.
My personal choice for finding peace has been to head to the Spiti Valley and the adjoining Lahaul region, in Himachal Pradesh. Its significance for serenity seekers is twofold: there is nothing here except for untouched nature all around, and Buddhism pervades through it. When you combine these two aspects, you know you will never have to go anyplace else to find peace and may be even yourself. Peace, you can find at a plethora of Buddhist monasteries, called "gompa" in the local language, that are mostly perched atop mountains, making for a spectacular view. If you have seen Lord of the Rings, then these would look to you like the White Castle of Minas Tirith. Keep reading to learn about the gompas in the region. These alluring monasteries of Spiti Valley will surely leave you astonished!
Ki
Also spelt Key or Kye, the monastery is located on a high cliff on the banks of the Spiti River, in the shadow of even higher cliffs. If you like dark dungeons, then you are going to love it as here you will see small, light-deprived rooms, interconnected with narrow corridors. Vibrant thangkas or scroll paintings and murals, and stucco paintings seem to contrast the darkness beautifully. Also, the wind instruments, played on festivals, and the collection of weapons, used to conquer enemies and maintain a strict order, are also kept here. If you can, come here in winters as the region is all dressed in snow and it looks almost surreal!
Tabo
You just have to visit this monastery because it has a group of cave shrines, unlike anywhere else. It is also one of the few monasteries in the region to be built on flat ground, and not along the contours of a hill. You would probably need an entire day to see all its nine temples, 34 stupas, and lord knows how many cave shrines. Owing to this feature, it is often compared with the Ajanta Caves. Infact it is called the "Ajanta of The Himalayas" One thing you must not miss seeing is the main assembly hall, which features an image of Vairocana, a Bodhisattva, shown as turning the Dharmachakra or the Wheel of Law.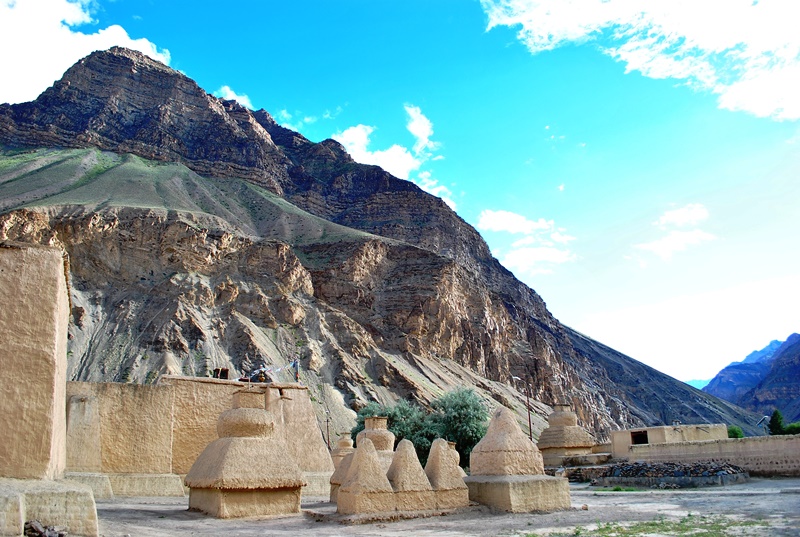 Dhankar
If Ki Gompa reminded you of Minas Tirith, then Dhankar will surely remind you of Rohan as it is built on an irregular hill. The reason it looks more like a fort than monastery is that it was conceived as a fortress, which also served as a prison. Better ask a monk to take you on a guided tour; otherwise it will be really hard for you to know which image is of which deity. Remember to see the image of the presiding deity, who could be Vajradhara or Vairocana, in the assembly hall. A small chapel here is even more interesting as it features paintings of Lord Buddha and some lamas.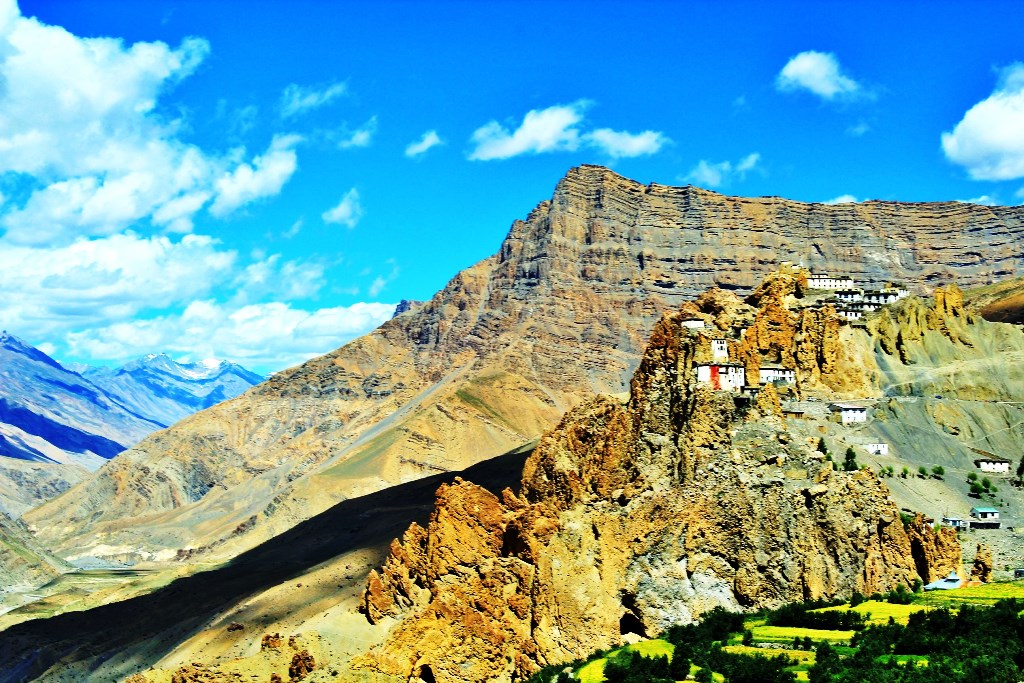 Lhalung
When you come here, you will probably see a willow tree outside, which is believed to have been planted by the great translator Rinchen Zangpo way back in the 10th century. Among the many myths associated with it, one says that the village changes colour depending upon the mood of the local deities! Well, I guess we will all have to see it to believe it. Another of its quality is the large number of statues kept in the various temples; all covered with gold leaves. There is even a circumambulatory passage inside the main temple, which is a bit dark. If you have time, then make sure to visit the temple outside the assembly hall to see sculptures of Lord Buddha.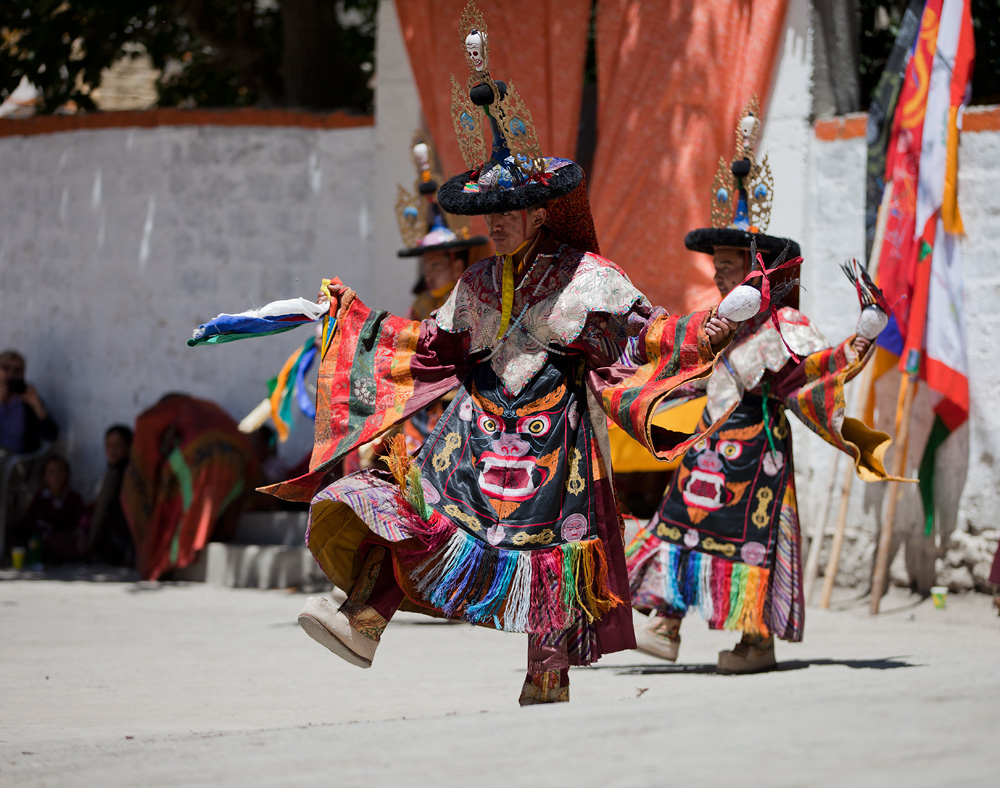 Komic
Among all the Gompas in the region, this one certainly has a special significance. It is the highest monastery in the world that can be reached via a proper motorable road. As usual with most religious sites, it too has a legend. The story goes that it was foretold that a monastery, looking like the eye of a snowcock, will be built at the site. Thus, the village was named as such: 'Ko' in the local language means snowcock, and 'Mic' stands for eye. The monastery may not seem much from outside, a simple red brick building, but do not be fooled by it. Its interior is richly painted with bright shades that would make your soul cheerful. A cup of hot tea at the monastery will warm you from within in the cold weather of Spiti.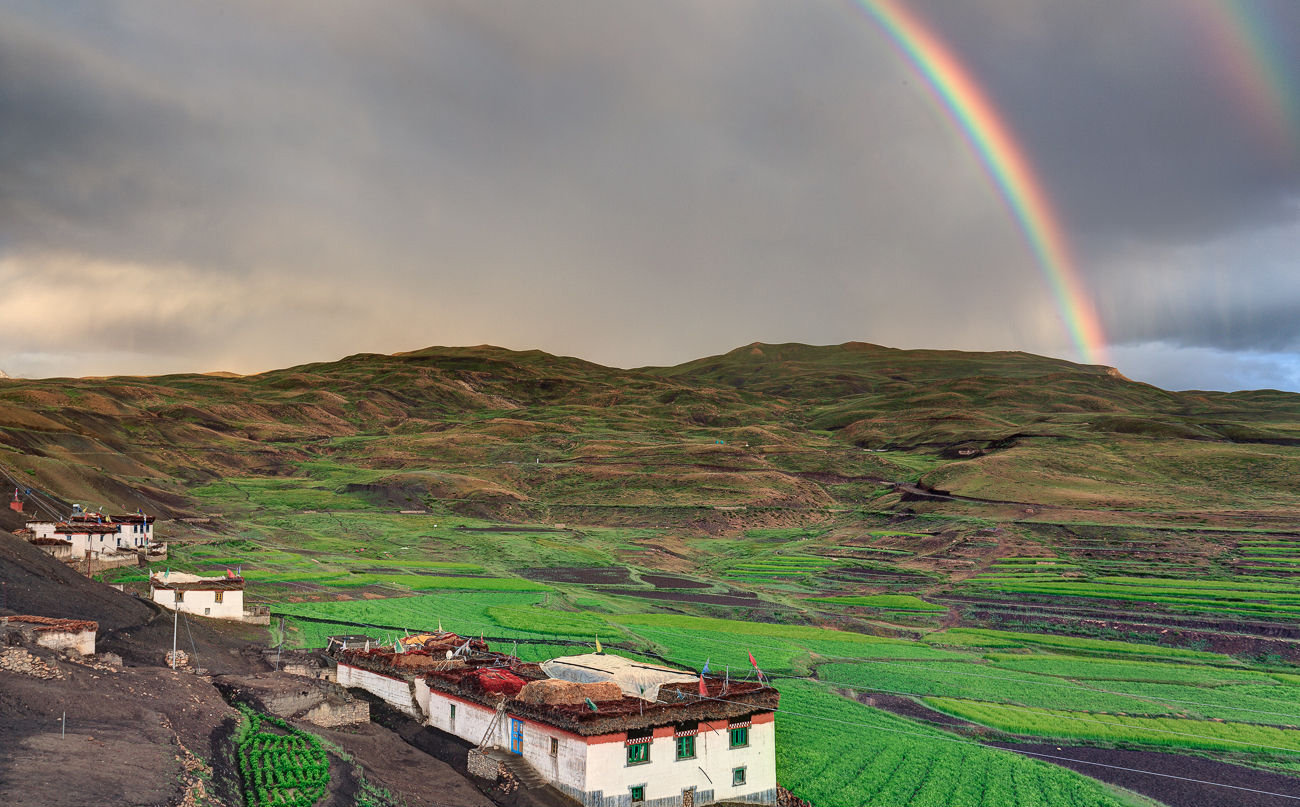 Kungri
Kungri Monastery has vibrant paintings that will surely take your breath away! Built in 1330, it was renovated recently with funds from overseas and this can be clearly seen in its paintings. Blue, red, yellow, purple, green or golden, you will find the entire rainbow in the monastery. If you are lucky, you may get to see sword dance, performed by monks. It would seem strange to you why Buddhist monks, who advocate peace, use swords. But, the truth remains that in medieval times they had to fight regularly against invading armies, mostly from the Tibetan region.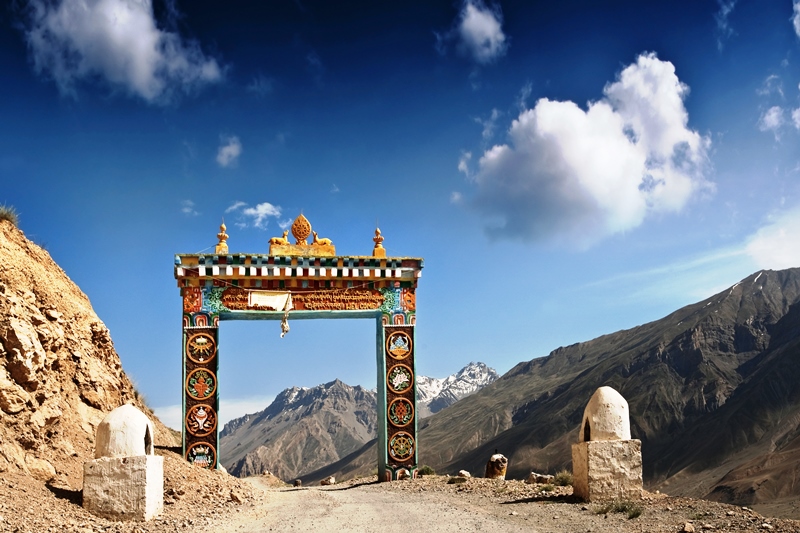 Guru Ghantal
About 10 km from Keylong, Guru Ghantal monastery will show you that people of different faiths can live with each other and worship their deities at one place. You would not be able to enter it just like that because the head monk or lama of Tupchiling Monastery has the keys to it. Another perk of visiting this monastery is the hike that you will have to undertake on the mountains! Here, you will see miniature idols of lamas and Padmasambhava along with those of Goddess Kali. This pretty much proves that Hinduism has coexisted with the Buddhist faith in the region for ages. Another interesting artefact here is wooden models of the Tibetan ibex, which lives in the area, and an intricately painted mandala, which in both the Hindu and Buddhist mythologies, depicts the universe.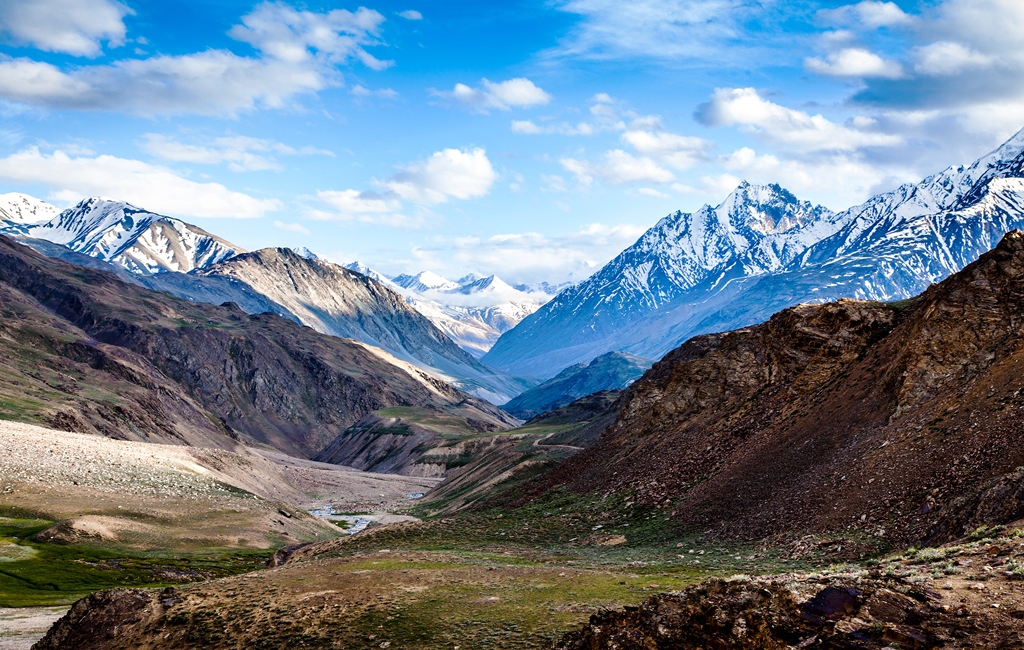 Shashur
Unlike most monasteries of Lahaul and Spiti that have a Tibetan connection, the one in Shashur has Bhutanese roots as it was built on the orders of Shabdrung Ngawang Namgyal, the unifier of Bhutan. It is in the few areas within Lahaul and Spiti, where you will see trees, the reason being that it is closer to the Himalayas. You enter the pious atmosphere just as you reach the monastery gate. From here, rows of small stupas and prayer wheels accompany you forward. Just see the over 5-metre tall scroll painting, called thangka locally, and your eyes will be left wide open. There are statues here that depict 84 Bodhisattvas of enlightened beings (did you know that Lord Buddha was also in fact, a Bodhisattva?).
If you happen to come here in June-July, then do not miss attending the local festival, where monks perform dances, wearing colourful masks as symbols of various guardian deities.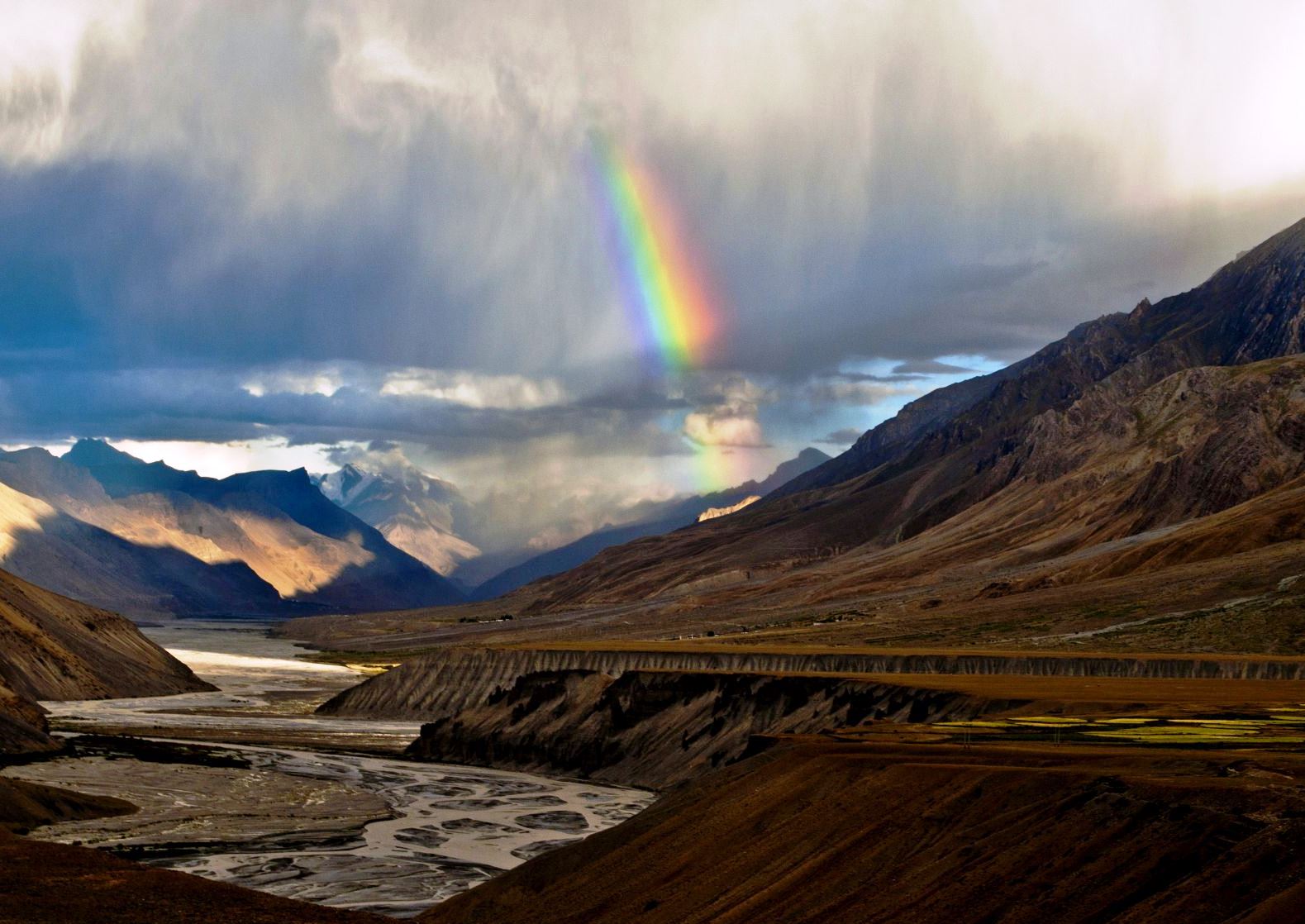 Kardang
If you thought that Buddhist monks followed strict rules and were restricted in many ways, then Kardang Monastery will certainly burst this myth. You will see that the monks here are both men as well as women. This gompa is among the richest in terms of aesthetic jewels and each one more beautiful than the other. Some interesting things here are idols of deities like Lord Buddha, Amitabha, Goddess Tara, Akshobhaya and Avalokitesvara (the Bodhisattva of compassion), paintings of Jataka stories, kalchakra and mandala. Ask a lama to tell you the tales, associated with all these; mythical legends are always fun to hear. They may also tell you about their life and what they do when not meditating. It may come as a surprise to you that many of the lamas here are married! For a more comprehensive knowledge on Buddhism, you may head to the monastery library to read religious texts.
Tayul
The monastery of Tayul is located in the middle of a juniper forest, which you will absolutely love trekking through. It will capture your senses as much with its statues and paintings as with its legendary story. The moment you reach here, the almost 12-feet statue of Padmasambhava will make you feel like a dwarf. By his sides, you will see sculptures of two of his favourite disciples. Spend some time in the gompa library, well stocked with Kangyur texts that talk about various incidents in the life of Lord Buddha. However, its greatest highlight is the hundred million prayer wheel; no idea about the significance of the name. Locals believe that if you turn it, you will be blessed by god with compassion.
But, wait, the myth is not limited to just this. As per monks, the wheel turns itself on a number of occasions, the last being sometime in 1986. Wow, they even have a date…So head here and see for yourself if it is true.
Once you visit these places, I bet you will find all the inner peace you have been searching for. The images of deities, the calming prayers and the burning incense will almost transport you to a different dimension, where everything comes to a halt and all you feel is happiness and contentment.