"Chasing angels or fleeing demons, go to the mountains". This famous quote by Jeffrey Rasley explains my situation right now! For some, mountains is just an escape for a while, but for me, it feels like home. Whenever I am bored with the city life, and the pollution takes a toll on me, I head to the mountains! I have always loved mountains. I read about Chandratal a few years back, and from that moment on it's always been on top in my bucket list. Nothing can be more soothing and rewarding than admiring the bounties of nature and that too by doing a trek to a place which is still unaffected by the ever-increasing endeavours of human beings.
Even being a travel aficionado and an avid blogger, until recently, I didn't get a chance to see the beautiful (a relatively modest adjective) Chandratal lake. Probably even now, the thought of visiting it would not have crossed my mind, had a colleague, who is an achiever when it comes to visiting some of the highest lakes and glaciers in the world, not mentioned it.

So the plan came into force in the beginning of June, last year, after discussing it with a few of my equally venturesome friends. Besides taking all the relevant information from my "colleague", me and my friends also used good old Google to rest assure his knowledge. According to us, we did gather ample info until we actually went on the expedition and learnt once again that no matter how much we prepare ourselves beforehand, the journey is not going to be easy; chiefly if it involves going to an unfamiliar destination.
Visiting this Himalayan Lake was one of the best experiences of my life! The chocolate colour mountains blended with snowy peaks, the beautiful lake, and the ever changing landscapes left me speechless. Well, as I always do after a trip, here is a detailed narration of what Chandratal is, and what to expect from this place. After reading this blog, even if I am able to convince half of you to visit this lake, my passion for writing and travelling will be remunerated. Whether you are a regular traveller, who loves to explore new places or an adventure enthusiast, I am sure you will definitely fall for this attraction. Read further to know "all you need to" about this magnificent glacial lake:
What was its past?
There are many stories related to Chandratal, one of which says that it was a resting point for traders heading towards Spiti and Kullu Valleys. According to another legend from the epic Mahabharata, it is the same location from where Yudhishthira, the eldest of the Pandava brothers, was taken to Swarga (heaven) by Lord Indra. As a result, the lake is also visited by a number of devotees. The most interesting part is that the locals believe it to be blessed, and visited by fairies at night.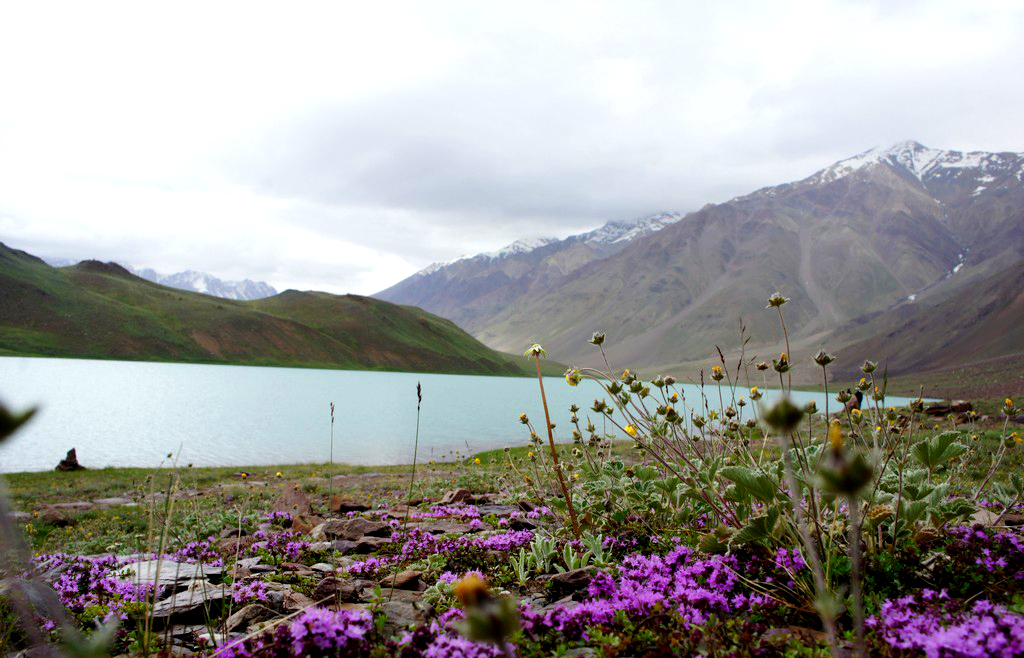 Geography
Chandratal, located in the Lahaul and Spiti district of Himachal Pradesh, is a 2.5-km wide fresh water lake. At a height of around 14100 feet above sea level, the lake is surrounded by scree, and brown mountains, which in the winter season turn white. The huge cirque here offers a magnificent view of the lake and far off snow-clad peaks of the Himalayan Mountain Range; thus, making it a paradise for photographers.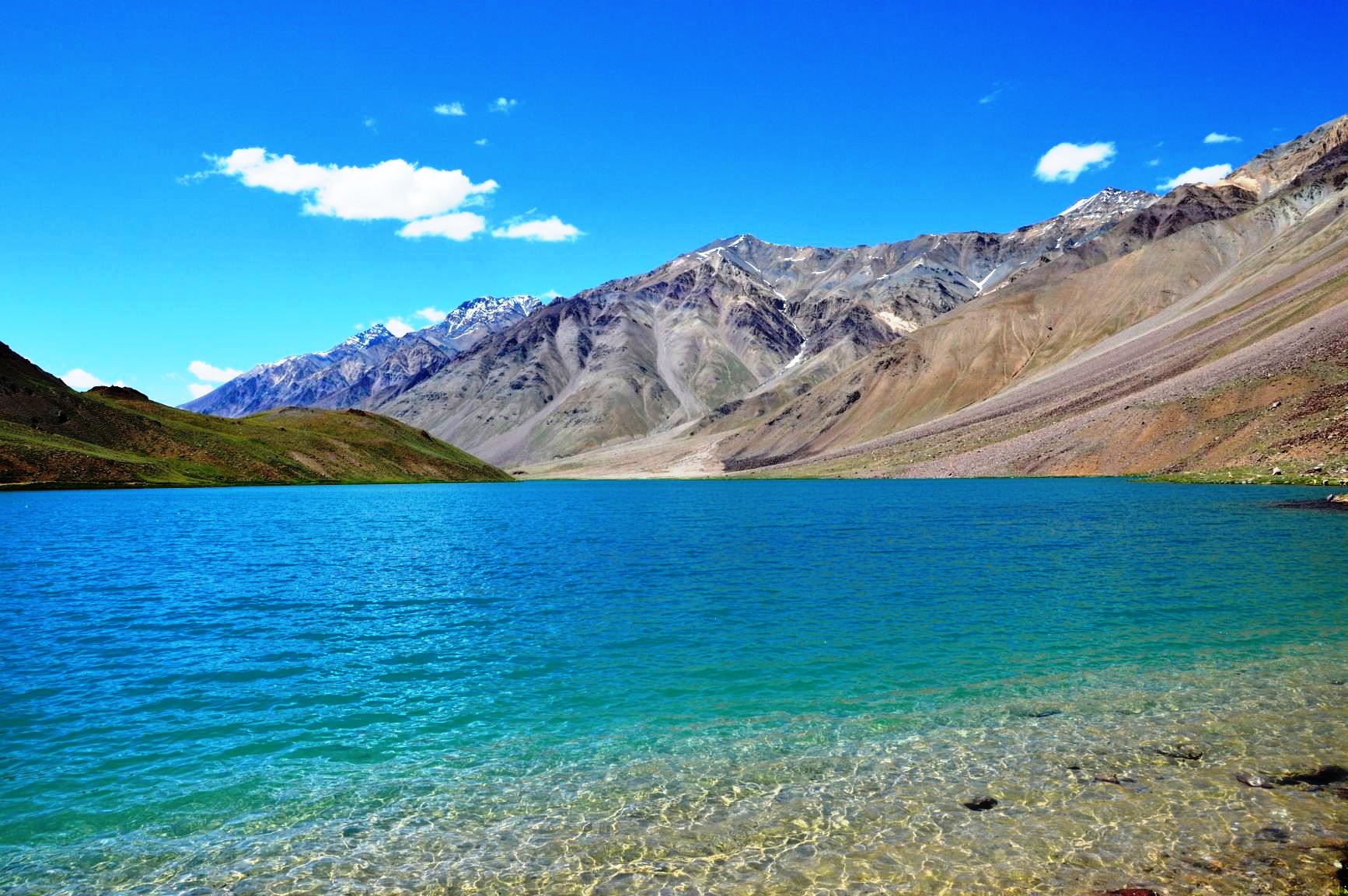 Why is it so called?
As its shape is more like a crescent, hence called "Chandra" while the word "Tal" stands for a lake. The Anglicised version of this Himalayan splendour is Moon Lake.
What to expect upon reaching?
The beauty of this region will astonish you even before you reach your destination. The rolling hills, beautiful meadows, wild flora and small waterfalls on the way will urge you to say WOW! Upon reaching this Himalayan Lake, you will be bewitched with its shades of brown, azure and white as it perfectly blends with the surroundings, which are all grassy and mountainous. You may say it is completely surreal! The effect of these views would be so relaxing and rejuvenating that you will forget all the worries that were engulfing you a few days before. Here, you will also see a small stupa covered with prayer flags that accentuate the calming effect.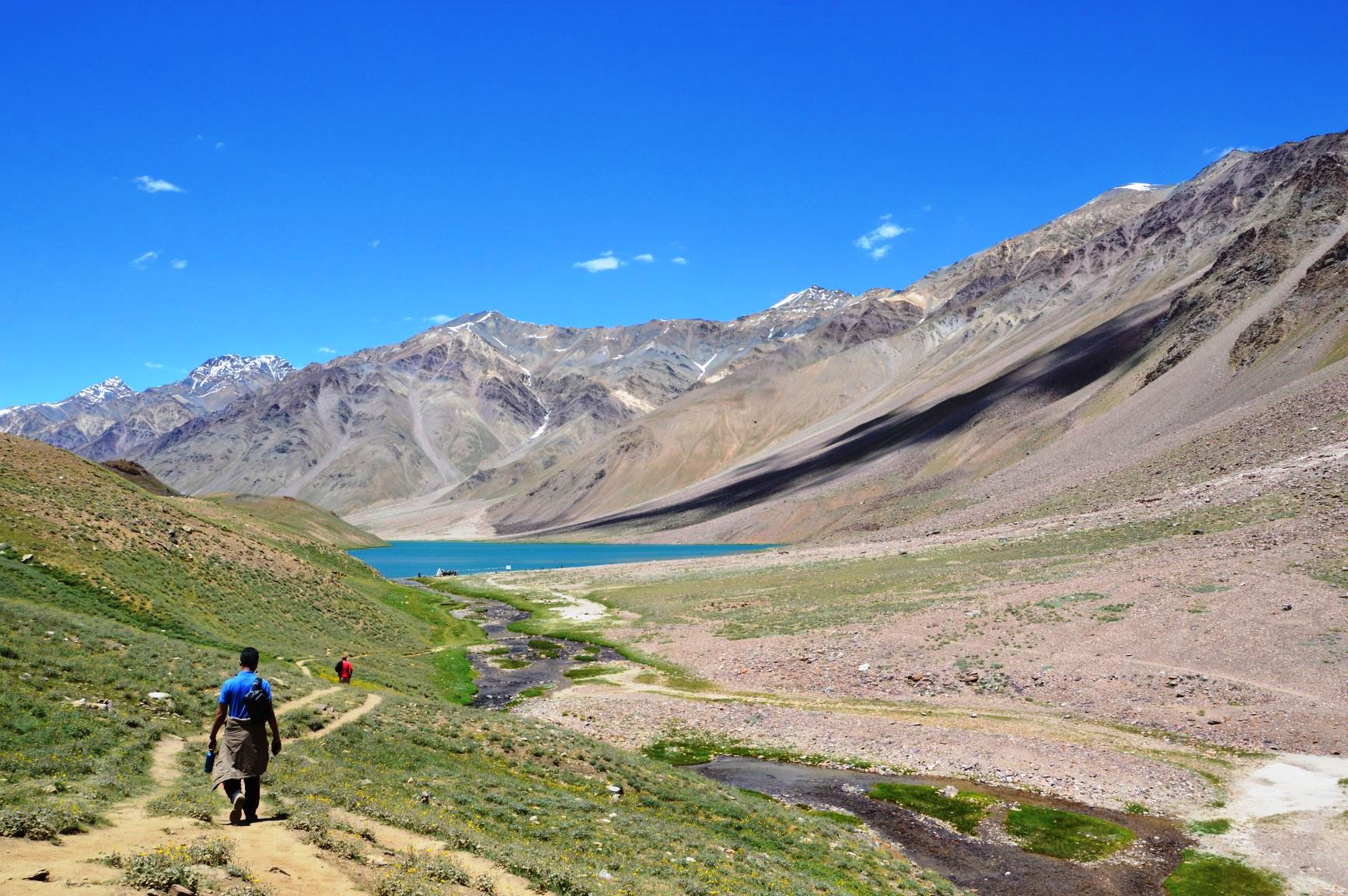 Staying Options
Well, there are two kinds of people: tourists and travellers. While the former love nature, but wouldn't compromise on modern amenities, the latter like to experience the wilderness of nature. Travellers are more like wanderers, exploring whatever comes across in the most genuine form. For this complete experience, a traveller should choose for a homestay or set up a tent for camping. The vast expanse of meadows on the banks of the lake makes for a great camping site. If you happen to visit Chandratal during the spring season, then the happiness would increase manifold as the area is carpeted with hundreds of colourful wildflowers. Besides, there are PWD guest houses as well in Batal.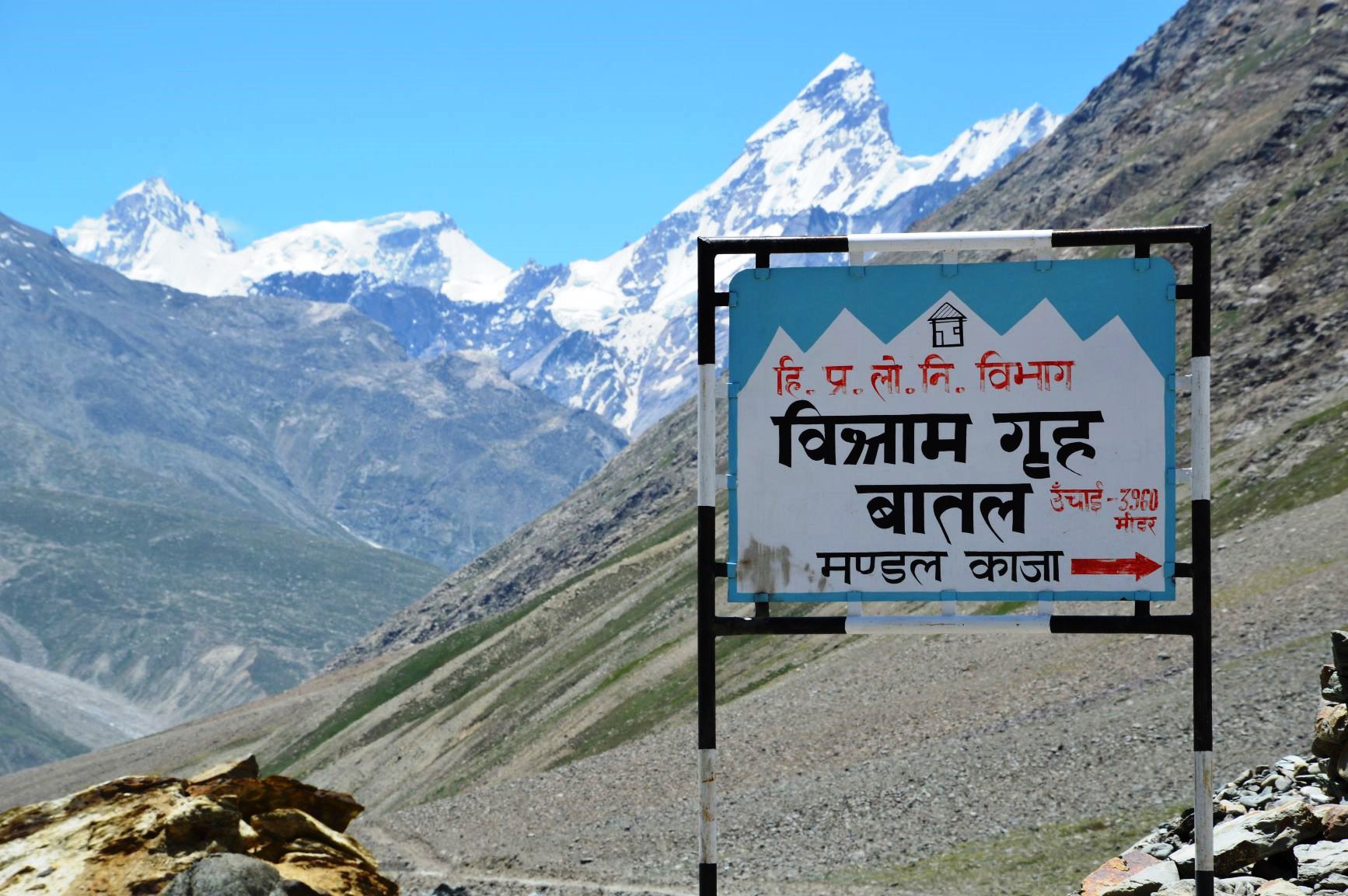 What to expect on the platter?
Since it is a remote location and that to at a soaring height, the food options are limited. You can expect only some basic food items like dal, rice and mix vegetable; though, hot beverages like tea and coffee are readily available.
How to Reach
The lake is accessible on foot as well via Jeep. So, it totally depends on your wish and stamina to decide your way. We, being fanatical adventurers, chose the trekking option. The trek is possible via Kunzum Pass, and the jeep safari can be done via Batal (as there is a motorable road here). The lake is 8 km and 14 km away from Kunzum and Batal, respectively. Even if you are going for the second option, you will have to do a short hike from the point, where the road ends, to the lake.
Best Time to Go
The best time to plan a visit here is from May to early October, as the rest of the time, the lake is all snow covered and hence difficult to access. For an exclusive experience, visit Chandratal on a full moon night. The reflection of this heavenly body in the lake waters gives a gleaming effect. If you happen to visit it on a new moon night, you will surely be amazed to see millions of shooting stars.
Things to Keep in Mind
To keep the environment clean and contribute to the greater good of the community, it is advisable to not litter the surroundings with plastic bags. Follow the popular saying, "Take nothing but pictures leave nothing but footprints."
In case you are driving to the lake, be extra cautious as the road is treacherous and hostile. Its picturesque appeal might divert your attention.
Do not forget to carry your camera.
Keep yourself hydrated to avoid Acute Mountain Sickness, which is very common at high altitudes.
Carry appropriate winter wear to easily bear the cold weather of the region as the climate can be really harsh.
Do some warm-up exercises a few days before you start the expedition (I would personally suggest start at least 15 days before).
Wear comfortable sports shoes, especially with deep treads.
Besides your trail map, also bring a compass for a better understanding of directions.
Make a checklist of things to be packed like snacks, sunscreen, sunglasses, mosquito repellent, regular medicines (if you take any), sanitizer, etc.
Follow the "light luggage" rule, especially if you are thinking of trekking to the lake; you will have to carry your own stuff till the end.
I hope the above information will help you a lot in planning an expedition to Chandratal. Whatever may be your reason: to spend some moments of repose, to discover the real you, or to satiate the hunger for adventure, a visit to this glacial lake will be really worthwhile.