We are crazy about records! And I'd even go to the extent of saying that a thing is special only if it's got a record to distinguish itself from the millions of other things in the same category. Sachin Tendulkar has got fans all over the world, but why? If somebody asks us why we love him, we all would probably start listing all the accolades he's won. That's what makes him special! That's what sets him apart from the hundreds of thousands of cricketers all over the world. It's something to flaunt.
Well, I am not here to talk about cricket; I am here to talk about travelling. So, I would be talking about the highest places in India which you can visit. Recently, one of my friends went on a trekking expedition in Kerala, and I remember as soon as he returned, how he started bragging about conquering the highest mountain peak in South India – Anamudi, and how he plans to climb Mount Everest next!
Well, to be honest with you, I don't think my fitness would allow me to climb that behemoth. I have done some trekking, but mountaineering is something I haven't been lucky enough to try extensively. So, I went online and checked out places I could visit to brag about. I may not be able to visit the highest mountain, but I am definitely going to be visiting some other highest places in India. Here are some places on my bucket list that I am sharing with you.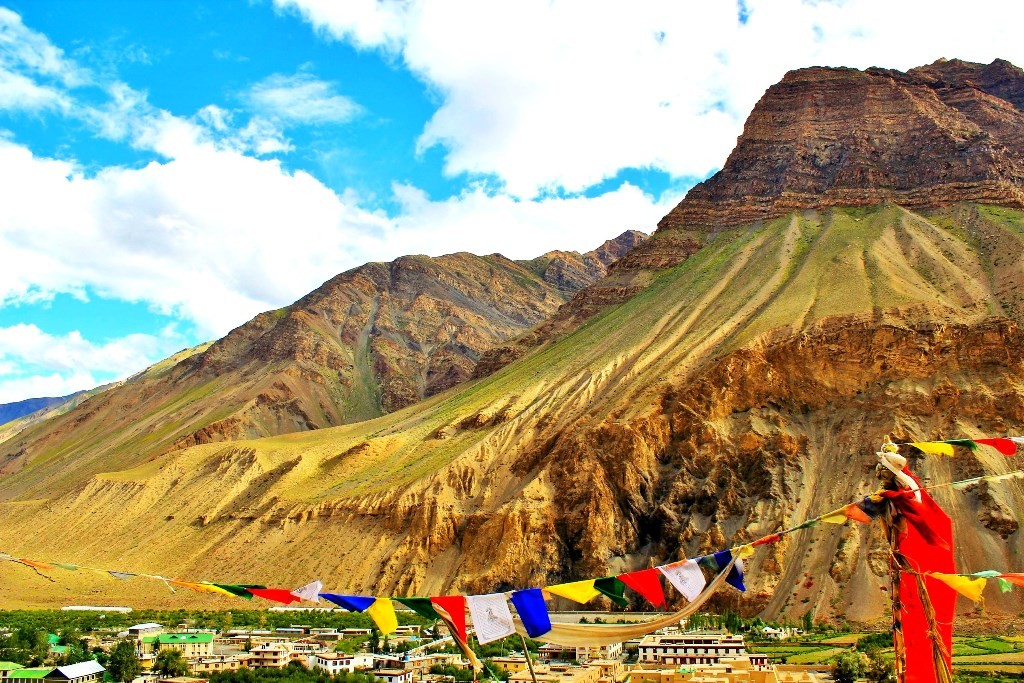 The World's Highest Post Office – The Heritage of Hikkim
In the Lahaul and Spiti district of Himachal Pradesh, lies the small Hikkim village with a population of just a few hundreds. To someone, who is coming here for the first time, this may look like any other village high up in the Himalayas, but what's special about it, is its post office. Hikkim Post Office is no ordinary branch of India Post, the largest postal network in the world. At an altitude of about 15500 feet, it is the highest post office in the world. Aren't you proud to learn this fact? The post office has the staff of only one, Mr Rinchen, the postmaster, who handles 15-20 posts every day. When I reach Hikkim, I am going to post a letter to my mom and all by best friends as a memoir.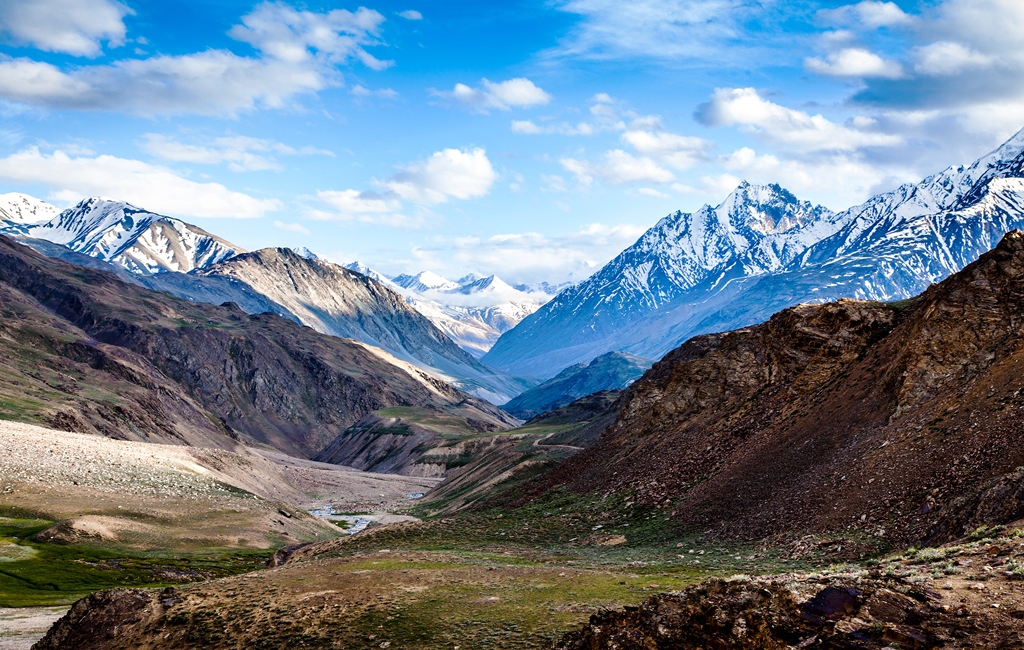 The World's Highest Petrol Pump – Kaza's Fountain of Fuel
To visit the highest petrol pump in the world, you do not have to go too far from the world's highest post office… just 16 km from Hikkim to Kaza town, the headquarters of the Spiti sub-division of the Lahaul and Spiti district. If by chance you are travelling in the region and stop at the petrol pump, you will read the following words written in big letters: "AT WORLD'S HIGHEST ALTITUDE RETAIL OUTLET (3740 MTR. ABOVE MSL)." So, before you post your mail from Hikkim, get the tank of your car filled at this high altitude petrol pump which is also quite old fashioned!
The World's Highest Cafe – A Sip of Adrenaline at Rinchen Cafeteria
If I mention Ladakh, the first images you draw up in our mind would probably be of its desert landscape, high peaks, enchanting lakes and old monasteries. And, if amidst those mighty peaks, on the way to those centuries-old monasteries, you place a cafe, it'd be the highest cafeteria in the world. About an hour's drive from the city of Leh, Rinchen Cafeteria is known for its Maggie and black tea. Amusingly, at the entrance, you see the history of Maggie and the benefits of drinking black tea. Did you know that it can protect you from certain cancers and help develop stronger bones? I'd suggest you enjoy a cup or two here, maybe not for refreshment, but for your health's sake. I wonder how Maggie and tea taste at over 18000 feet. Since I love food almost as much as travelling, Rinchen Cafeteria is on the top of my wish list.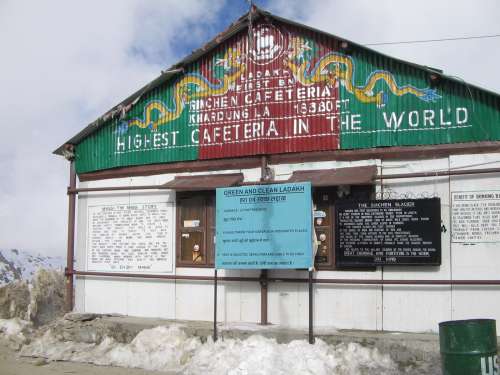 The World's Highest Battlefield – The Icy Realm of Siachen
I am certainly proud to know of the sacrifices our soldiers make and struggles they face to keep us from harm. The oath of protecting the country from any adversity have taken them to the altitude of about 18000 feet to a place, where all you can see is snow and all you breathe is the cold mountain air. How ironic that the name of Siachen, a place of extreme weather and barrenness, translates into a place of wild roses. The place may not be a conventional destination; however, that doesn't diminish its allure. Siachen is also renowned as the second largest glacier outside the Polar Regions. If you are seeking to do something extreme and mountaineering is something you do or want to try, then I suggest you make a trip to the Siachen Glacier and witness this white wonder with your eyes.
The World's Highest Tea Plantation – The Sprawling Gardens of Kolukkumalai
We, as Indians, sure do love our cups of tea! Drinking it two to three times a day is no big deal for us, and even the blazing heat of summers cannot stop us from enjoying our favourite cuppa. So, how about savouring sips of this refreshing drink at high altitude tea gardens? The hills of Kolukkumalai in Tamil Nadu, almost 8000 feet above sea level, are home to the highest tea plantations in the world. With a hot cup of tea in one hand, enjoy the aroma of the lush tea gardens, and admire the distant rolling hills as they play hide and seek with a light layer of mist. A tour of the old, two-storey tea factory here, which was built in the 1930s, will teach you some time-tested methods of tea processing.
The World's Highest ATM – Withdraw Cash, Enjoy Vistas in Thegu
Sikkim, one of the Seven Sister states, is known for its scenic landscape, diversity of wildlife and vibrant culture, and as home to India's highest mountain peak – Kanchenjunga. In the Eastern Himalayas, this small state is truly an adventure lovers' paradise as it offers opportunities for mountaineering, trekking, river rafting, mountain biking and wildlife safaris. No wonder all these things overshadow the fact that the world's highest ATM is located here. At thousands of feet above sea level, it is located in the small village, called Thegu. From far away, you can see a huge board saying, "AXIS BANK, HIGH ALTITUDE ATM 13200 FEET." Don't know about you, but I definitely plan to withdraw some cash from the facility. If you come here, make full use of your time and visit the Nathu La pass to see Chinese soldiers across the border. 
The World's Highest Cricket Ground – In the Quaintness of Chail
I think we love cricket more than we love tea, don't we? A bat, a ball and a few buddies, that's all we need to get down to it. Whether, it's our terrace, middle of the street or even the veranda of our house, we can always find a place to enjoy this sport. But, how does playing the sport at the world's highest cricket ground sound to you? For that, you are going to have to visit Chail in Himachal Pradesh. At an altitude of almost 7500 feet, Chail is surrounded by a lush forest of deodar trees. The cricket ground here was built by Maharaja Bhupinder Singh in 1893 after he made Chail his summer capital. Chail is easily accessible from Shimla with a road journey as it is only 55 km from there.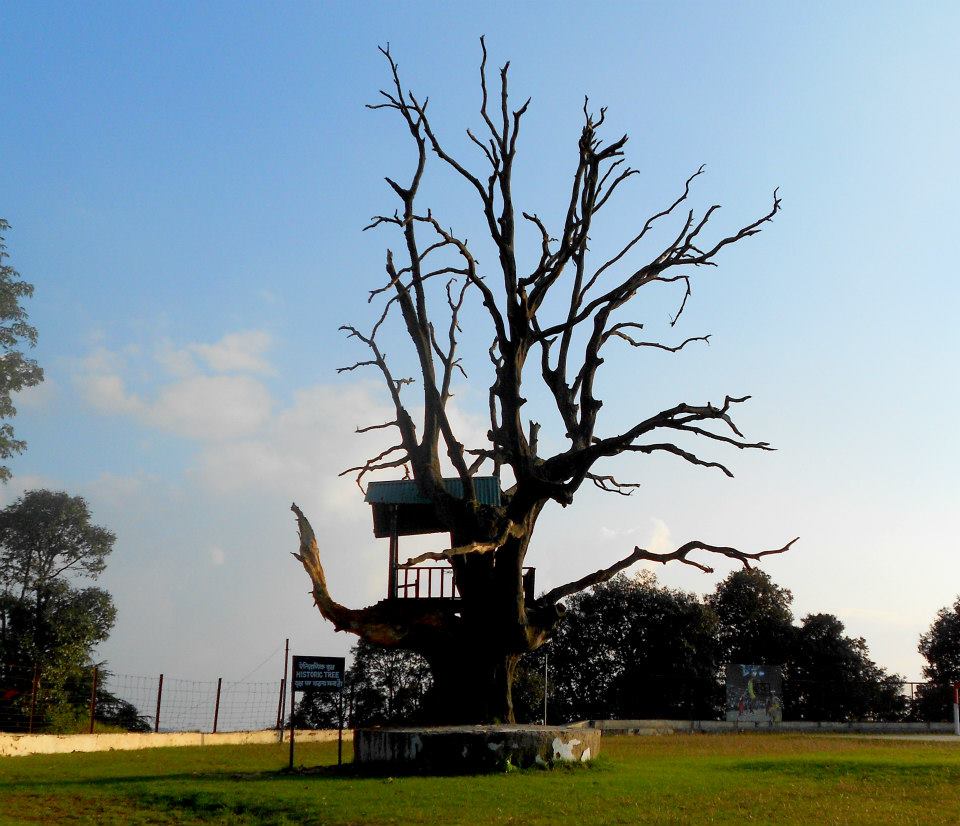 The World's Highest Golf Course – A Game in the Heart of Sikkim
The small state of Sikkim is hiding many treasures, and Kupup is one of those. YAK Golf Course which is listed in the Guinness Book of World Records as the highest golf course on earth, has put it on the global map. This 18-hole golf course, measuring 6025 yards in length, is situated at an altitude of 13025 feet. If you are an ardent golfer, then trying it here must be on your bucket list. Its lush fairways make the experience delightful while the natural streams and ponds make the game challenging. During winters, ice hockey, ice skating and skiing can be enjoyed here. Whenever I get the chance to visit Sikkim, I am definitely going to visit Kupup and try the sport here.
Even if I am not able to visit all these places in my lifetime, I will strive to cover at least a few of these. Would you believe that I have a fear of heights? Yeah, I get chills every time I think about visiting these places, but Dr C.E. Welch's quote, "Abolish fear and you can accomplish anything you wish," just keeps me going.