I often carry a small vial of this spiced kale and nori medley in my purse, refilling it every few days. I got the idea years back when I saw the words salad booster on a jar in the spice section of one of the natural foods stores I frequent. The seasoning was a blend of a few types of seaweed, sprouted seeds, and the like. Nutrient-dense and delicious, you'd use it as a healthful seasoning for salad, vegetables, stir-fries – whatever you like. The idea stuck with me and I started making my own, usually using a toasted nori and kale base. From there, adding nuts and/or seeds, and whatever spices I was craving at the time.

Go Big!
The key here is to embrace this seasoning enthusiastically. You don't want to skimp. A pinch isn't really the spirit. Instead, really go for it. Use a couple teaspoons on a rice bowl, same goes for a good-sized salad or stir-fry. Shower your favorite soups with it!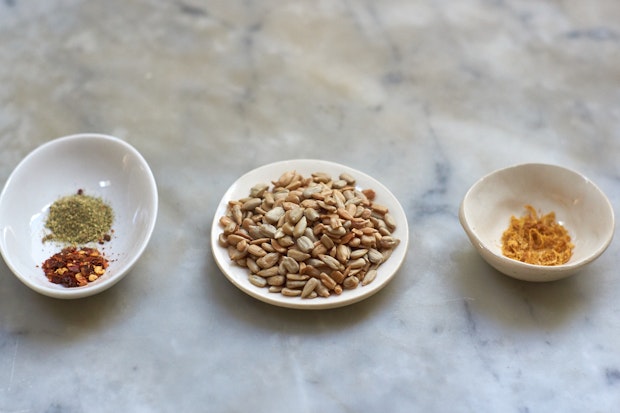 Make some, gift some! Keep in mind this is a nice little treat to hand off to friend. You can find little glass containers online, and make cute labels for them. And feel free to tweak the ratios of ingredients as you go. I'll include my base recipe down below, but really, think of it as a jumping off point.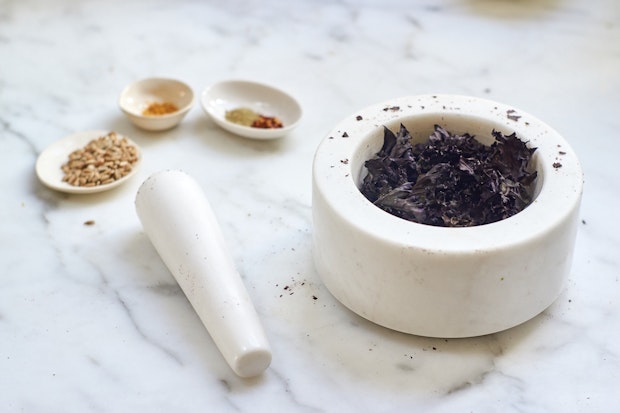 More Spice Blends
If you like these sorts of seasonings and spice blends, heads up. I mined my notebooks from the past few years to create a collection of favorite spice blends, seasonings, sprinkles and the like. The blends are bold, flavor-packed, and meant to be delicious and fun. They're the ones I use regularly, the ones in my notebooks with lots of stars and hearts next to them. The collection (Spice / Herb / Flower / Zest) is specifically for the members of my site. *Note: if you're already a member (thank you!) the PDF will be in the downloads section of your account. For example, take a look at this…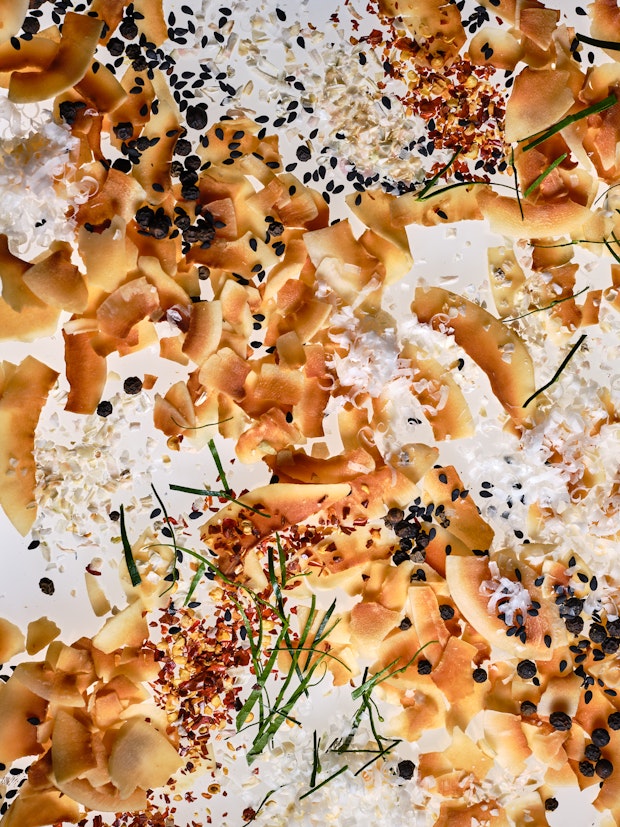 This is another example of a recipe in Spice / Herb / Flower / Zest, one of my favorites – Toasted Coconut Pepper. With black peppercorns, sesame seeds, toasted coconut flakes, lime, dried garlic or onions, and grated cheese to finish, this seasoning blend is good on everything. You can't go wrong keeping a little container front and center in your kitchen. Work this combo generously into butter for a fantastic compound butter perfect on roasted sweet potatoes. Or, sprinkle it across your favorite grain bowls.
In the meantime, give the salad booster a try, the recipe is posted down below. Enjoy!
More Homemade Spice Blends
Source link