Nepal ranks among the most peaceful nations in the world, be it in terms of the culture, people, landscape or the social setup. Home to the great Mount Everest and nestled in the magnificent Himalayan Mountain Range, Nepal's economy thrives on tourism and it sees an influx of thousands of tourists from across the globe. Having the highest peak in the world certainly helps boost tourism in the country, but Nepal contains several other sights and gems, which are worth visiting for adventure aficionados. From time to time, there are things one needs to do that are not in synchronisation with convention, thereby making it all the more exciting and intriguing. A trek to the Annapurna Range could aptly be characterised as one such activity, which a lot of people do not undertake out of fear, but should definitely try.
As confessed by French mountaineer, Maurice Herzog, "Annapurna, to which we had gone emptyhanded, was a treasure on which we should live the rest of our days. With this realization we turn the page: a new life begins. There are other Annapurnas in the lives of men."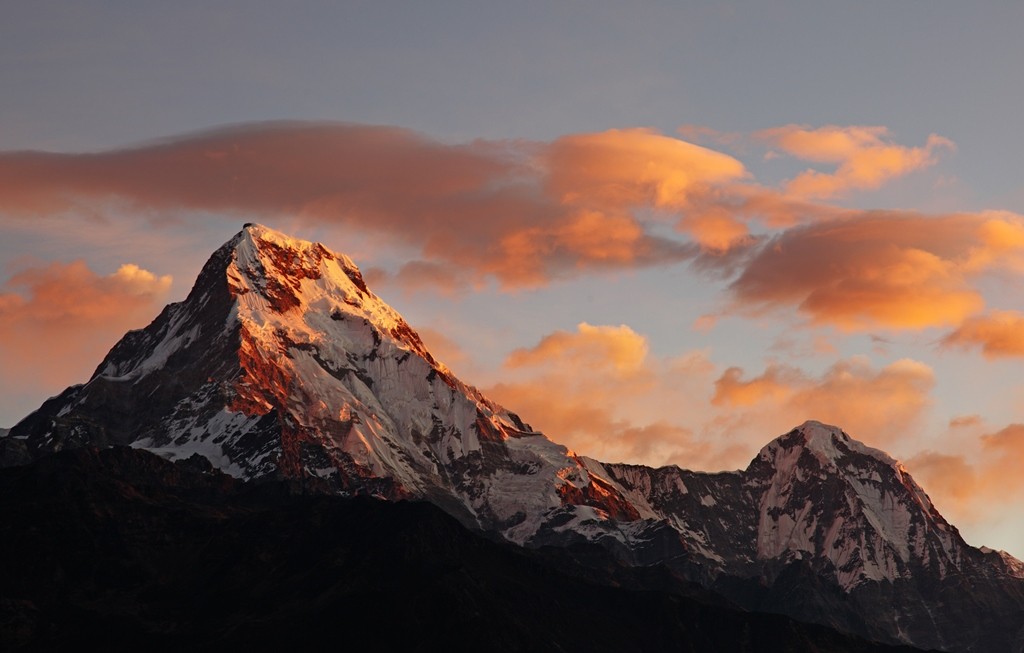 The magnificence and glory of the mountain range is truly represented in the enthusiastic words of Herzog, who along with Louis Lachenal climbed the Annapurna in 1950.
Comprising three mountains with a height of more than 8000 metres, it is a part of the great Himalayas. Now, if that does not sound attractive and incredible to anyone, nothing else will ever. The amazement does not stop there as this range not only has three mountains above 8000, there are several other peaks above 7000 metres as well. The Annapurna Range's three 8000-plus mountains are named Annapurna I Main, Annapurna I East and Annapurna I Central.
Historically speaking, this mountain range is regarded as one of the toughest in the world to climb, but has attracted top mountaineers over the years. However, there is more to this range than just the peaks and anyone who wants an adventure in the Himalayas should look no further. This is why going on a trek to the base camp of the world's tenth highest mountain is not such a bad idea. In fact, it is an excellent one, which will be cherished forever! Even Mark Obmascik, in his much-acclaimed Halfway to Heaven, aptly quoted that mountains make him feel small and help him sort out what's important in life. Hence, it is really significant to understand the magnificence of nature and how we are just a tiny being in front of it.
It should be pretty clear to anyone undertaking this monumental expedition that the journey is nothing short of extreme challenges, be it physically, mentally or psychologically. However, the fruits of this gruelling trip will result in unparalleled amazement that would be an exceptional revelation to the eyes and pure ecstasy for the soul. Witnessing the sheer majesty of the Himalayas, the youngest of all mountain ranges in the world, in full bloom is a rare sight that a very few people get to see.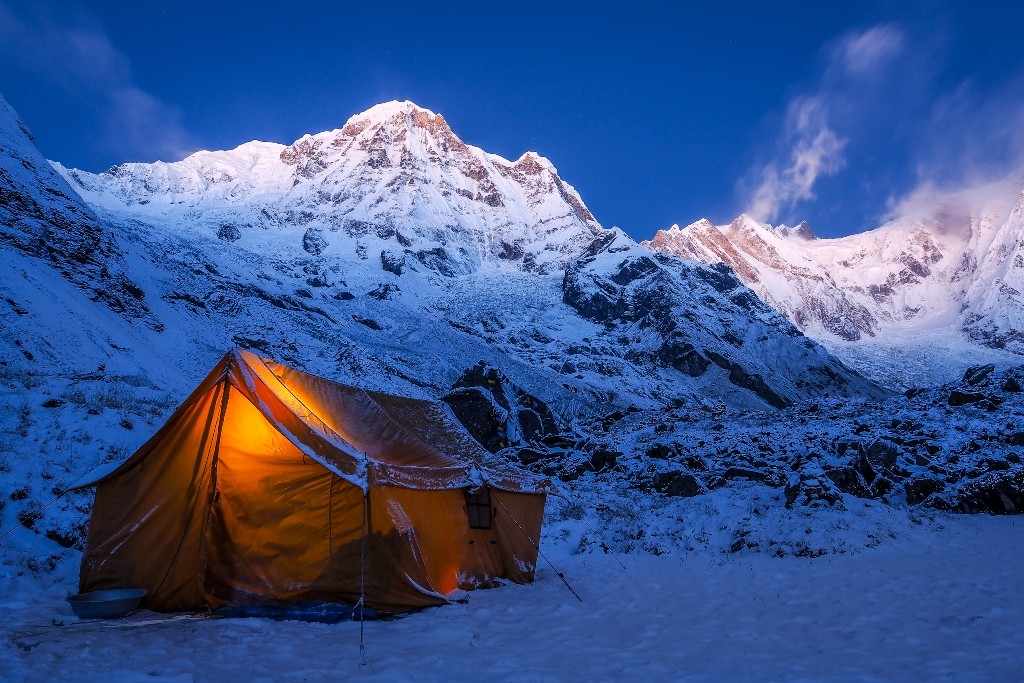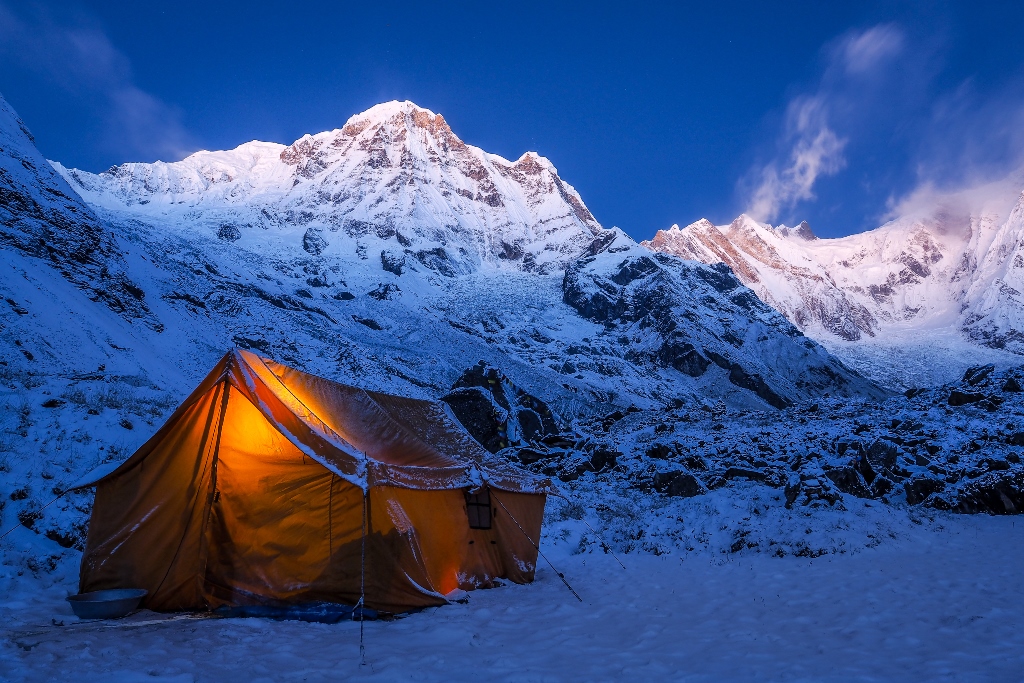 Most people who go to the Annapurna Base Camp go in groups and take packages created by travel agencies, something that is practical and quite sensible. Trekking to the base camp of a really tall mountain can be quite troublesome and having company always helps. In addition, having all logistics, including food, accommodation, travel gear and intermediate transportation, taken care of, is a blessing. Thus, it is rightly suggested to anyone planning a trip here to get everything in order before arriving so as to avoid any issues.
The Annapurna Base Camp trek, starting from arrival in Kathmandu and ending with a return to the same, takes almost a fortnight to complete. Kathmandu, the capital city of Nepal, is connected to several cities across the world via flights and is an excellent place for sightseeing. Meeting with the locals, who are extremely endearing and sweet, is a must-do activity for anyone visiting the first time. Nepal's capital city has some amazing temples and monuments that one can visit during their stay here. Kopan Monastery, Thamel, Pashupatinath Temple, Durbar Square and Old Freak Street are some of the most popular attractions of Kathmandu. For those, who do not have any issues, staying at a local homestay can be a delightful experience, given the extremely generous hospitality of Nepalese people.
After staying in Kathmandu for a day, the next destination for travellers is Pokhara, which is approximately 6-7 hours from the former by road. The drive to Pokhara gives a glimpse into what lies ahead and the eventual destination – the Annapurna Range. Views of rice fields, Manaslu and Ganesh Himal Mountains, and Trisuli and Marsyangdi rivers are stunning and make you wonder "Can it get any better?" Well, it does! Though it is purely the choice of the traveller, staying in Pokhara for one night is highly recommended, especially for the majestic night views. Again, it is recommended that travellers should stay at a local homestay to have a complete Nepali experience.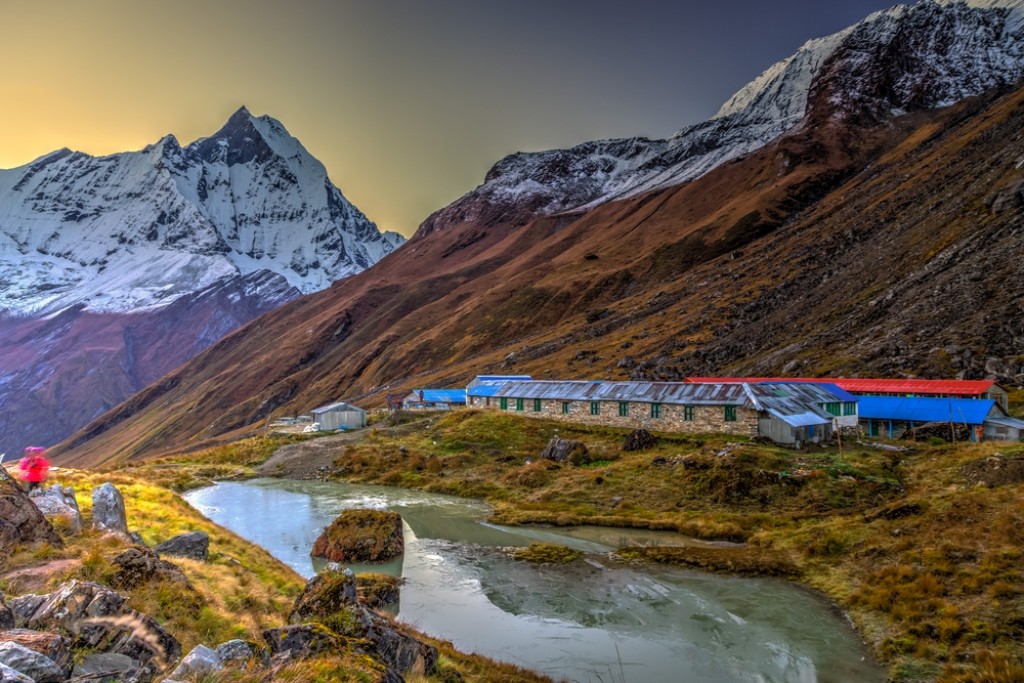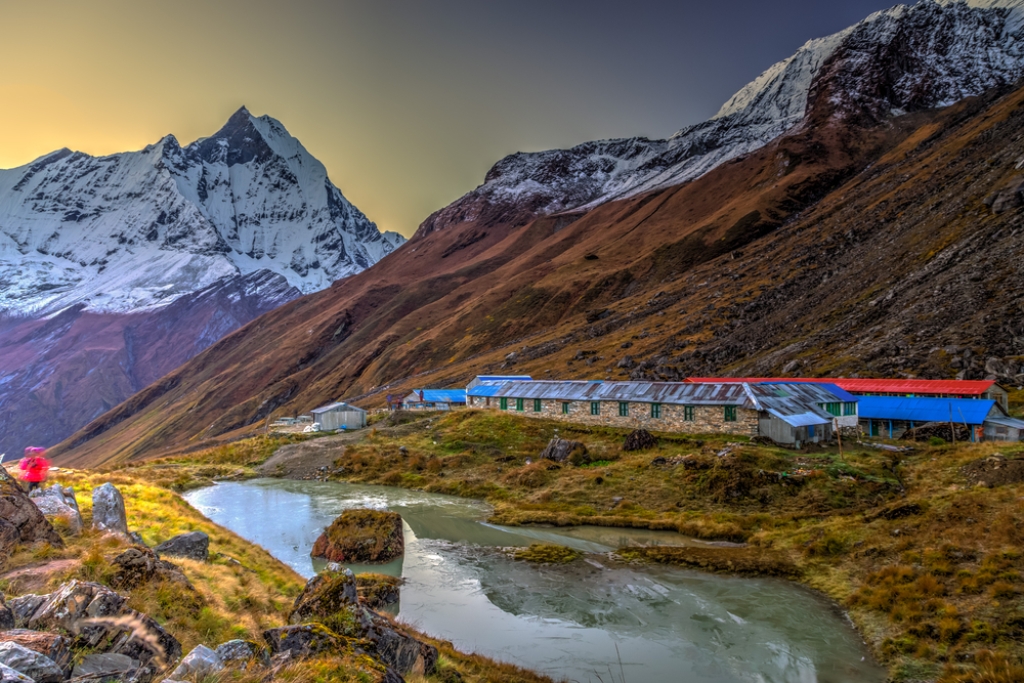 The end of the stay in Pokhara is where the actual trek to the Annapurna Base Camp begins at Nayapul, which is around 45 km from the former. Nayapul is the place where travellers begin their climb to Thikedunga via Ramghai and Birethanti. The breathtaking views of Burungdi River and the surrounding valley are sure to sweep you off your feet. Taking a walk alongside the river is quite relaxing, especially after eating a fresh meal cooked by the locals. It is advised that travellers spend a night in Thikedunga before moving for Ghorepani, which is located at a height of more than 9000 feet. The highlights of this trek are lush oak and rhododendron forests that provide for one hell of a greener view. Here also, locals offer homestay.
This is followed by a hike to Poon Hill, which is said to be the best place for marvelling at the Annapurna Region. There is certain magnanimity in this place and if one is lucky enough to reach here and witness the sunrise, it is going to be an unforgettable experience. The trek then goes to Tadapani, Chhomorong, Dovan and Deurali, over a period of three days. There will be a lot of challenging steep climbs during these days, including and especially the Hinku Cave, which involves crossing icy crevasses. The Deurali Valley is located at an altitude of approximately 11000 feet and its views are simply stunning and would make travellers want to be there for a really long time.
The final trek to the Annapurna Base Camp, which takes 5 to 6 hours, is the last step towards the unparalleled views of this amazing region. All-round vistas of Annapurna South, Annapurna I and Machhapuchhre will make the pain and fatigue go away in one bit. Hardly would a person come across views with such purity, magnificence and divinity, and the Annapurna Mountain Range gives one a chance to witness this glory. After spending one night at the Annapurna Base Camp, you would not want to go back, but sad as it might be, returning is inevitable.
Nepal is a country full of natural treasures but the man-made ones are astonishing as well. This country, with all its peace and goodness, has seen a lot of calamities over the years and the most recent one was the earthquake that took place in April 2015. This tragedy caused unbearable destruction to both human lives and the country's economy as well. Tourism is a big part of Nepal's economy and going to the country now would be both welcoming and a good opportunity for international tourists. Given the fact that they have to get their economy back on track, the Nepalese authorities and people are likely to be extra welcoming towards international tourists.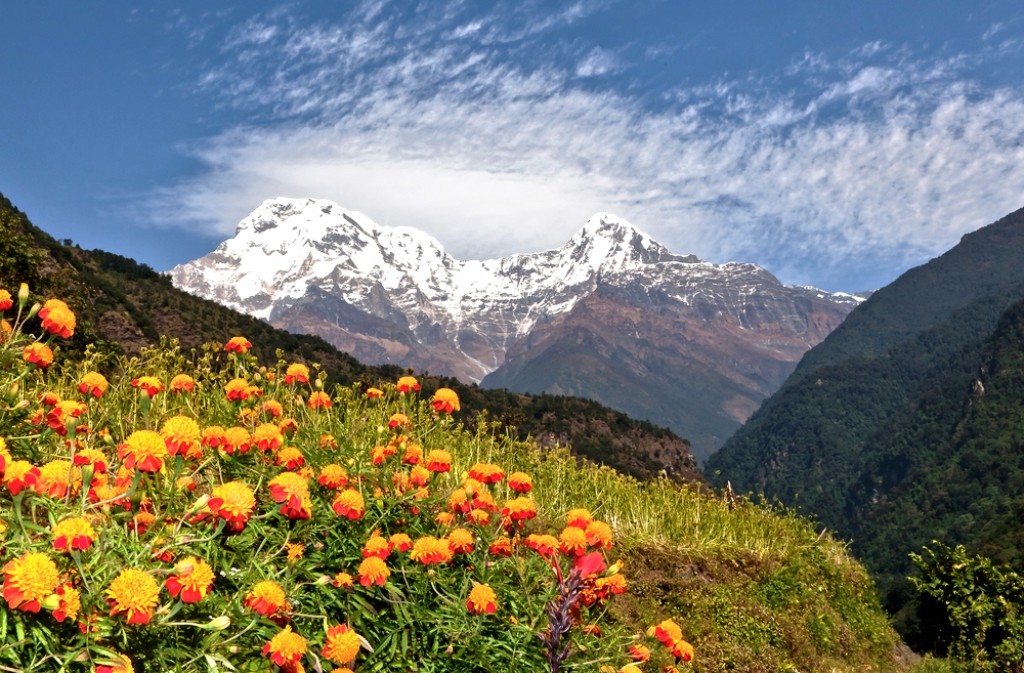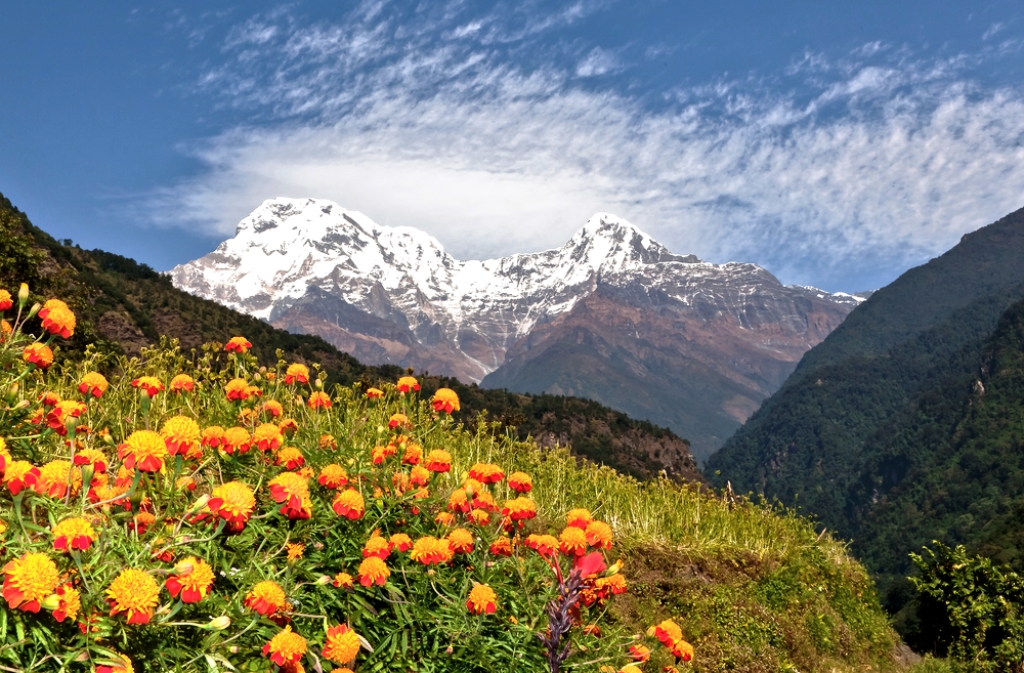 There are certain things that tourists can do to make their trip to the Annapurna Range even more memorable and interesting. To start with, interacting with locals always helps and their hospitality is truly endearing. By deciding to stay at local homestays during the trek, tourists not only receive freshly cooked food and a real experience of the place, but they will also be helping in rebuilding the economy and adding to the livelihoods of the locals. Not to forget, it is essential that tourists do not cause pollution by littering the places. Also, it is better to buy merchandise that is created and manufactured locally for promoting the indigenous small-scale industries.
To put things in a nutshell, a trek to Annapurna Base Camp is a challenging journey that all mountaineering aficionados must take. Planning needs to be done well in advance but given the unbelievable nature of the trek, it is quite economical as compared to other such trips. Moreover, getting to go to a base camp that boasts three peaks in excess of 8000 metres around is a rarity.